Tennessee musician Pat Pollifrone recently posted a picture of Zoey befriending the young deer he had spotted earlier in the week.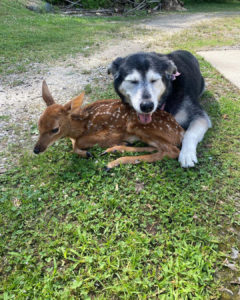 The trouble started on June 24, when Miller Holler frontman Brent Henderson found the fawn in his backyard in Cheatham County, Tenn. "Found this little sweetheart yesterday in the yard, so we took her into the woods," Henderson wrote alongside a photo of the animal at the time. It looks like we have a deer now."
During that same day, Pollifrone shared a video of the deer, affectionately known as Bambi. Pollifrone revealed the deer had several health concerns. It's her decision whether or not to go back into the wild. Her eye infection looks much better after pulling the ticks and applying Neosporin," he wrote. "She has been drinking goat milk and walking around the yard all day."
In the musician's next post, he shows his beautiful dog snuggling up next to the fawn with a smile on her face. Pollifrone said, "Words can't describe the cuteness."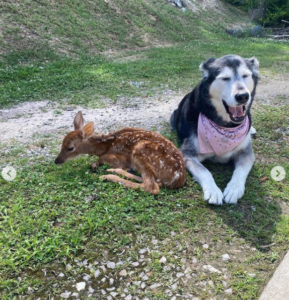 Pollifrone outlined his attempts to find a new home for Bambi in his post, saying he called several local animals rescues to see if they accepted new animals. He also said the Tennessee Wildlife Resources Agency was "hard to reach."
"So we will continue to look after the baby until mama returns," he said. It is a miracle that she is doing so well. She is pooping, peeing, taking goat's milk, and the ticks are leaving her alone.
Later that day, Pollifrone uploaded a video to his Instagram account from a goat farm called Gibson Hollow Goat Ranch. The animal lover said he had found the fawn a new home there.
He wrote with the hashtag, "#goatfarm," "I think we found a place for Bambi to live.".