When an Arizona dog came into contact with a cholla cactus last month, he ended up in quite the prickly position. The pup weighed 5 pounds and had spines all over him. Arizona Humane Society (AHS) received him. The prickle-free "Cholla Charlie" is now living in a forever home.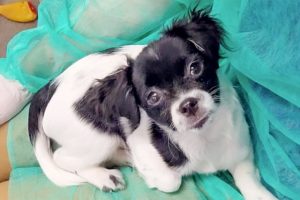 A good Samaritan found the puppy covered in cactus spines in Surprise, Ariz., on July 22. He took him to Surprise Animal Control. The Arizona Humane Society then placed Charlie in its New Hope program, which provides medical care for shelter animals in need of it at its Second Chance Animal Hospital.
As soon as Charlie arrived at their hospital, he was immediately sedated and had all his spines removed. An AHS media relations specialist, Dickerson, says the surgery was a lengthy one, owing to the spines being everywhere; they were in his mouth, around his eyes, and even in his paws.
Charlie was kept in the animal hospital for a few days after the procedure to ensure no lingering illnesses, such as an illness or spines that were missed in the extraction, could lead to infection.
AHS staff members then placed Charlie into a foster home for continued care after the department had cleared him. Currently, Dickerson says he is "beautiful, wiggly, and happy like any puppy at this age.".
Little Charlie is in good health and eager to find a new family at the Everyday Adoption Center of PetSmart Charities in Scottsdale. After only a few hours, he had found the family of his dreams. In Scottsdale, Charlie is now living the best puppy life possible.
Dickerson explains that a total of 15,000 animals are rescued and adopted out by the Arizona Humane Society every year. "He's one lucky pup!" she writes.