The two-wheeled 'most popular doggo is one of Team Fluff's greatest assets-and a surefire winner!
Benny Bunny, a goldendoodle named Benny, smiles broadly and says, "Hey! How are you?" it's almost as if he doesn't care about the world at all. This might be true now, but the dog's life didn't begin that way.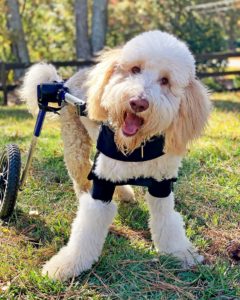 Born in Smyrna, Georgia, Jennifer Siegel founded Bosley's Place, a neonatal rescue orphanage. Benny's breeder contacted her shortly after he was born, she tells Daily Paws. He struggled with mobility almost immediately and the breeder noticed that he was different.
Siegel says the veterinarian at the breeder suggested euthanizing Benny, but she chose to give him a good life instead. As soon as Benjamin's mother rejected him, Siegal became his first foster parent and kept him bottle-fed around the clock. He was fine with it.
It has been a joy to have him since the moment he arrived, she says. "Some even said he sparkles!" she adds.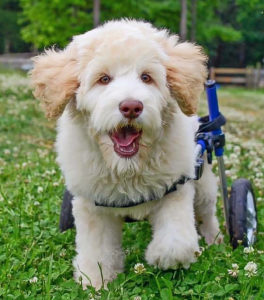 The veterinarian had a difficult time diagnosing Benny's condition when he was so young. No matter how hard he tried, he was unable to move his hind legs on his own. In that case, Beth and Joe Williams of Tucker Farm took him in after he was weaned. Having found the right care for this boisterous pooch with Siegel, Team Benny was born.
Professionals at an animal teaching hospital concluded that Benny was born with a spinal deformity that is not operable after he was examined by specialists, neurologists, and orthopedic surgeons. The back of his body is paralyzed between the shoulder blades.
Even so, the spirit of the intrepid pup never wavered. From the beginning, he refused to let anyone down. Through rehabilitation, he became stronger and stronger each day, always eager to roll and tumble. Having wheels now, he's almost unstoppable!